Kiev – a huge, he is among the ten largest cities in Europe. And if you come to the capital, not on your car, you have to communicate with the Kiev public transport.
Taxi.
Of course, the most convenient way to get around the city – a taxi. Of course, if finances allow. In Kiev, there are more than hundreds of companies involved in such transport. Price per kilometer ranging from 1.7 to 4.5 UAH. (Actual range of prices for 2016) As a rule, there is a minimum charge for the first 4, 5, 8 km. Service taxis are significantly different quality of service. Therefore, if you do not stop just taxi drives past, and decided to book it – better to choose not the cheapest – and riding safer and more comfortable cars. If it is important for you to save money, and by the way, in Kiev, the difference in one country, may be more than 100 UAH. 30 kilometers away, in the most expensive of the services – use the services of Economy Taxi, which is enough in this city. By the way, a distance of 15-30 km – the average length of your hypothetical trip to Kiev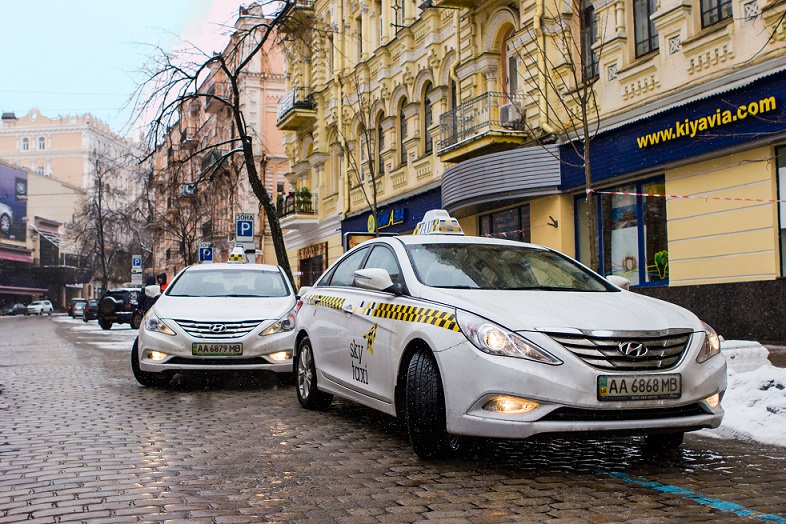 Kiev taxi
Trolleybus.

The most democratic transport – trolleybus. Of course, the price of travel in the bus, tram and bus is the same (is 3grn), but trolley characterized in that it does not miss stops, landing it is convenient to all, including people with disabilities, and by the fact that he goes on schedule and often enough. Thus, the number 24 trolley buses going to Obolon, moving at intervals of 8-12 minutes. Most of the time in the trolley is not observed an increased second-hand market (except for rush hour, of course) – it is because they are not a quick ride, and impatient passengers try to choose other modes of transport. By the way, it often happens that those who go to one or two stops, manage to ride "hare", especially in the presence of a large number of passengers – in fact, unlike minibuses, trolley always opens all doors. And once again, by the way – if you rented an apartment in Kiev, and you have nowhere to hurry – Drive trolley bus, from its windows so nice to enjoy the views of the capital.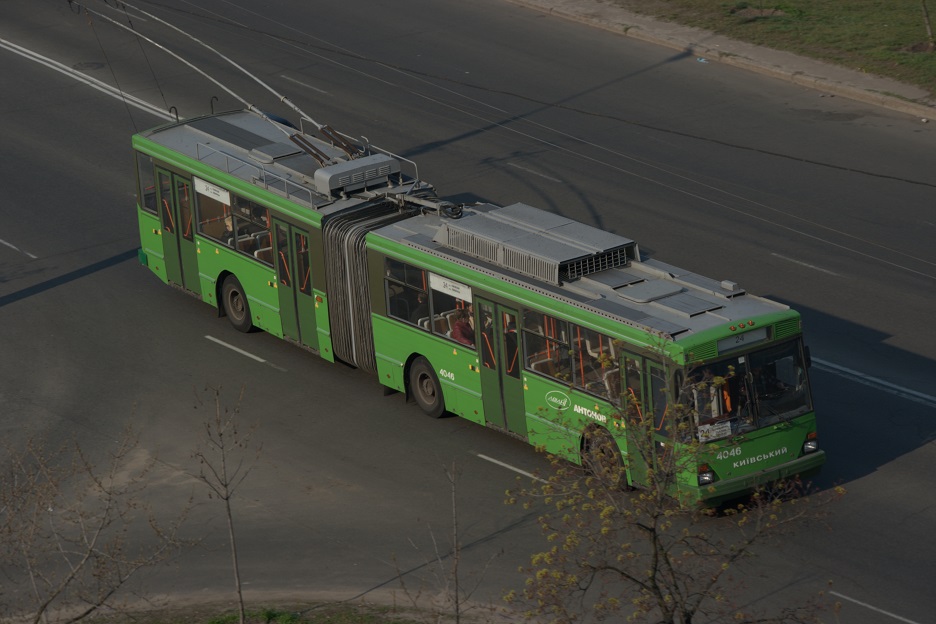 Kiev trolley
Subway
The most versatile transport – underground. The city has three metro lines, is constantly put into operation the new station. You can get there in almost any part of the city, quickly and fairly comfortable. So, in order to get from the train station to Obolon ( "Obolon" Station or "Minsk"), it is necessary to spend about half an hour – very convenient if you rented an apartment in Kiev there. The advantages of the Metro will add that Kiev is constantly plagued by traffic jams – but not subject them to the subway. Of the minuses – a big enough workload at any time of the day. By the way, Kiev Metro station is very beautiful – and the station "Golden Gate" and even one of the ten most beautiful stations in the world.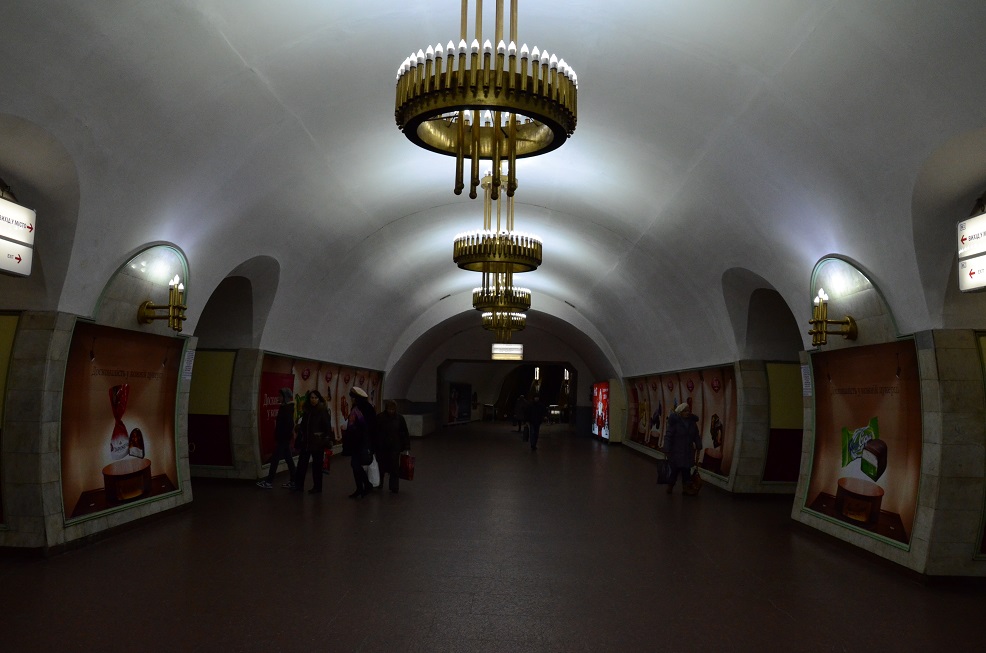 The Kyiv metro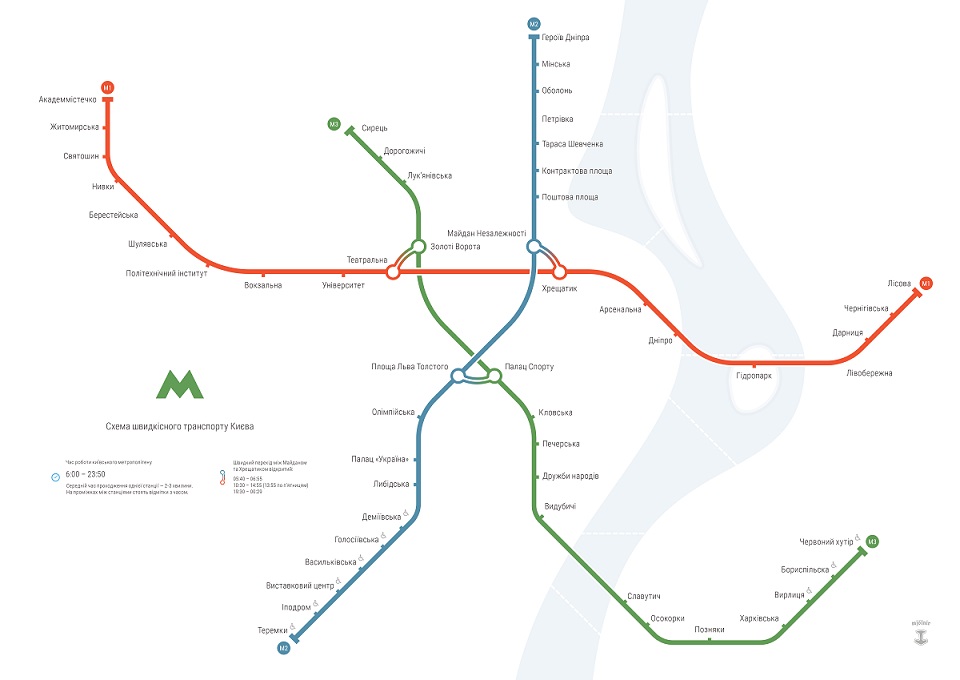 The scheme of the Kiev Metro
Minibus
The most "ubiquitous" Transportation – of course, bus, or taxi. They are trying to fight, put forward more stringent requirements, the drivers call them, along with a taxi, "enemies of the people" for the systematic movement of other traffic noise – but still all municipal transport (except metro) can not compete with them. With their appearance, residents and guests of Kiev could breathe a sigh of relief. Will compete gortransportu, who had nowhere to hurry, they decided to once and for all the problem of the huge crowds at bus stops and buses terrible storms. And give the city, in spite of all the disadvantages of its drive, much more civilized appearance. There are often, in all the most distant nooks where trolley-buses go every hour and a half, and that no timetable set. Stop largely wherever convenient to the passenger. So, rent an apartment in Kiev, you are likely to repeatedly take advantage of their services – from any subway, anywhere in the city – ask which bus goes to your destination – and this certainly is. True, the fare on minibuses more expensive than buses and trolley buses, and varies depending on the length of the route.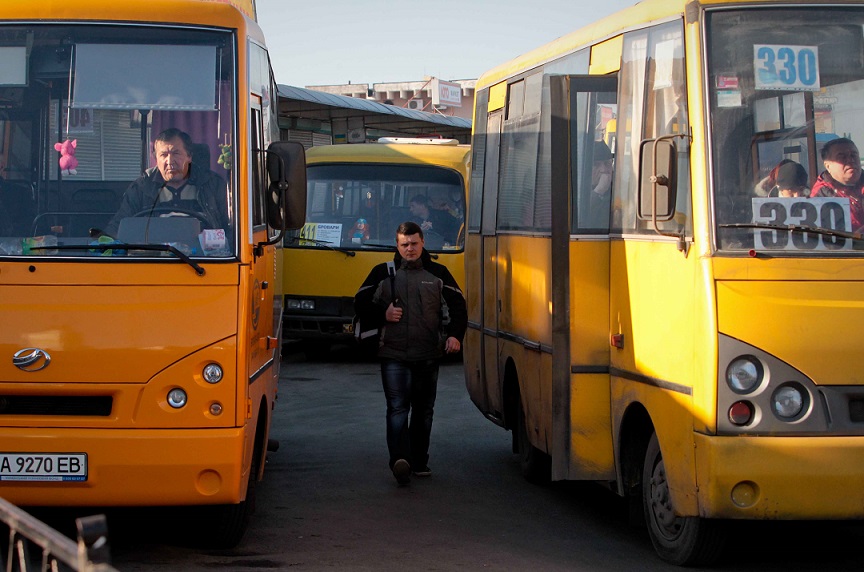 Minibuses wait
Bus.
The most familiar for a long time transport – of course, the city bus. Of the merits – just regular traffic, large size (do not crowd) and usually stop at all stops. However, taxis significantly pushed his older brothers, bus routes became considerably less – is not profitable on a background of "ubiquitous."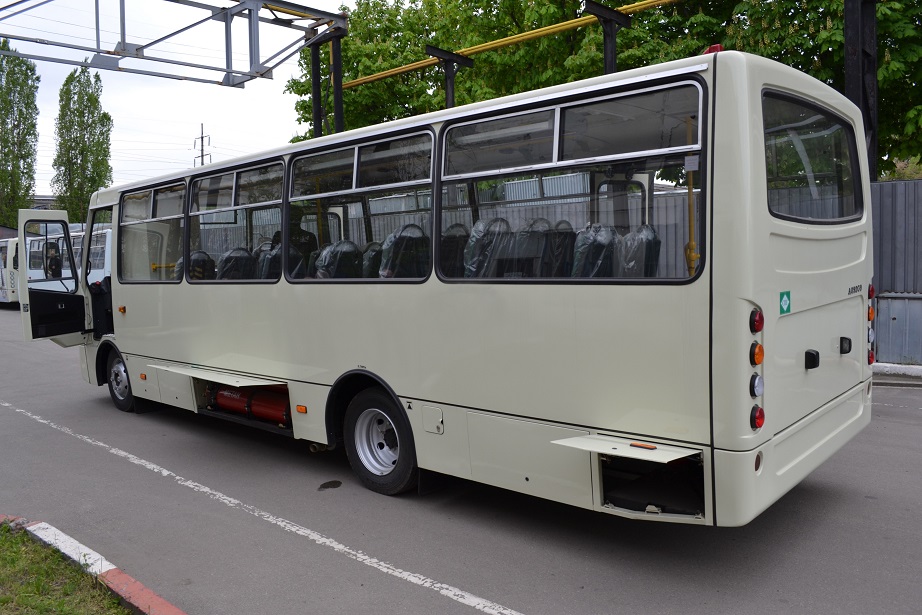 Newbie city bus
Tram
The most eco-friendly mode of transport. While it strongly eradicate – in contrast to the European capitals, where the tram routes open an elevated pace. Against the armada of fuming cars – tram looks completely innocuous, and is rarely busy. Goes slow, it stops at all stations – the perfect mode of transport for those who do not hurry to go to the removed somewhere in the sleeping area of the apartment – for daily rent in Kiev in areas readily available. However, light rail (there is such in Kiev) is moving very rapidly on the fenced paths, where no one bothers him.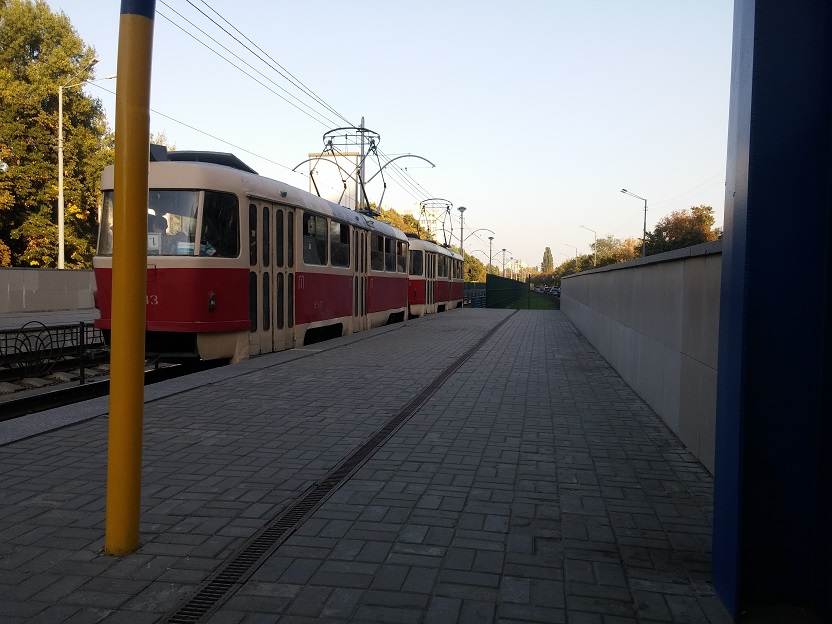 Light Rail
Funicular
The most exotic vehicles in Kiev with the shortest route – funicular. It connects the two oldest parts of the city – the Upper Town and Podil. It is a short trip on the step "trams" allows you to admire the Podil and the Dnieper, and end up in one of the two tales of Kiev – in a beautiful park around the corner from St. Michael's Cathedral or in a noisy Postal Square with the old post house. This, in general, transport mainly for tourists.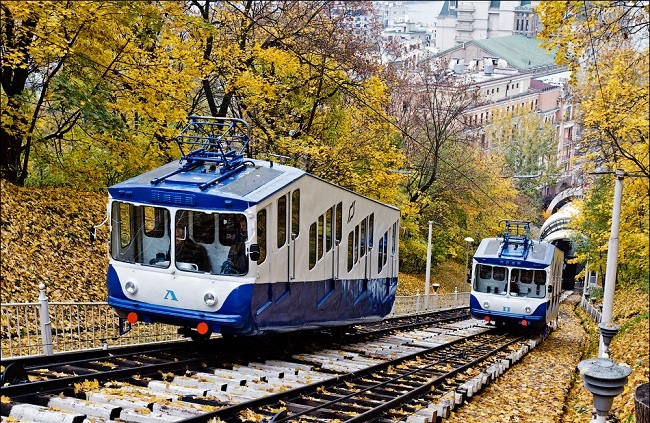 Kiev funicular
Bahn

And finally, the most dynamic form of transport – the city train. She runs around Kiev on the ring, as it were, bringing together distant branches Metro. Many work in Kiev, but live in the suburbs, and the cheapest travel options – that this type of transport. In addition, the train and used to travel around the city – for example, from the center to Darnitsa. Many people of Kiev to the suburbs come to her on a summer residence or a rest.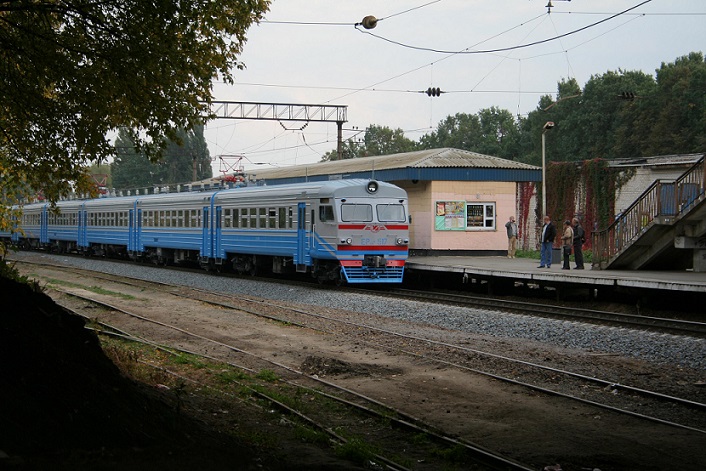 Suburban railway
Trains.
But to get to Kiev can be bus, by plane – and most of all – trains. And one of the fastest ways to get to Kiev-is to use the high-speed trains Intercity. Now for this purpose, as the imported train (Hyundai), and Ukrainian – Kryukiv plant (Kremenchug).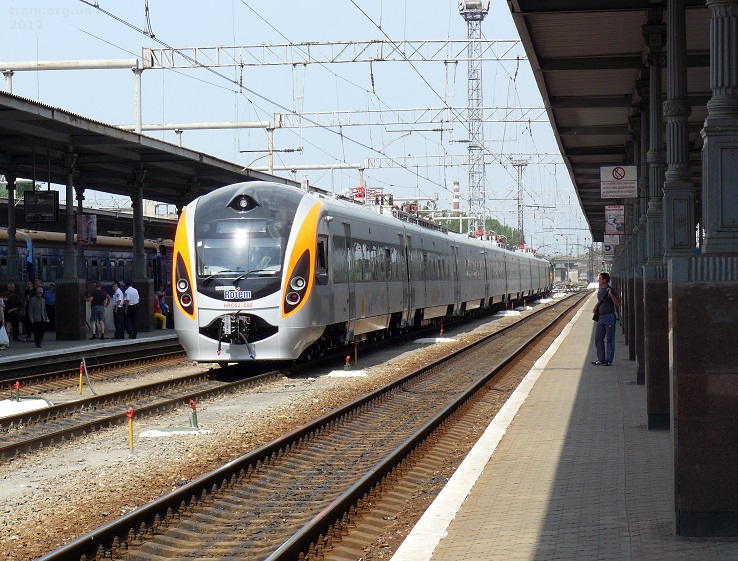 High-speed train Intercity Hyundai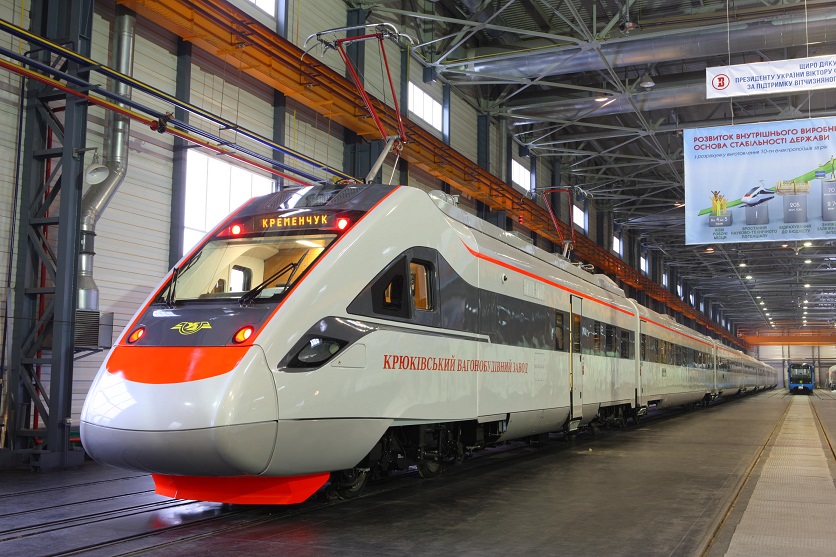 High-speed train Intercity Kryukiv plant
Stations.
Main Bus Station – is located in the area Goloseyevsky Kiev. All the main bus route – just come here. Bus Schedule – can be viewed here http://avtovokzal.com.ua/ua/tsentralnij-avtovokzal.html
Help Desk Phones
(044) 527 99 86
Holosiivskyi district, Avenue of Science 1/2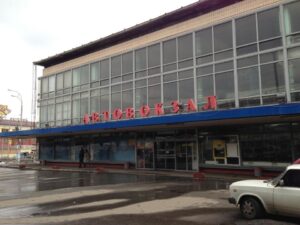 The main bus station in Kiev
Central w / station. Most trains arrive in Kiev at the Central Station. Actually, the Central and South railway stations. They are combined into a single set, and you can train to go to any of them. Train schedule can be found – very convenient – right on the Internet: http://poezdato.net/raspisanie-po-stancyi/kiev-pass/  or https://gd.tickets.ua/railwaytracker/table/kiev-pas~2200001  as the fare: http://poezd.tochka.net/.
Help Desk Phones
(044) 503 70 05
Solomenskiy district, pl. Vokzalnaya1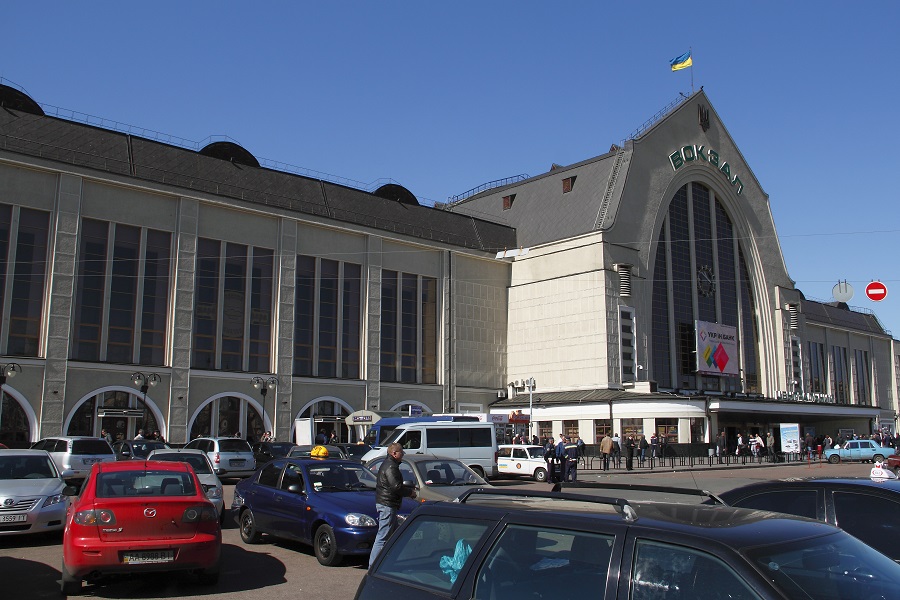 Central w / station in Kiev
South w / d station in Kiev
In each of the districts of Kiev, there are stations of local or central value.
Airport.
In Borispol international airport is located at a distance of 45 km. from Kiev. If you arrived by plane, and you want to rent an apartment in Kiev, we recommend you to book a shuttle service (taxi with the delivery of your luggage) in advance, passing the terminal upon arrival at the airport. The cost of a taxi, depending on the class of service you choose will vary from 250-800grn. the waiting time of the machine range from 15-40min.
Buses from Kyiv to Boryspil
Bus number 316 goes from m "left bank." – Boryspil.
№136k bus runs from m "Kharkiv -. Boryspil.
Buses from Kyiv to the metro station "Borispol"
Bus number 178 from st. Lunacharsky – R.Okipnoy – Rusanovskaya Quay – Dnieper embankment – Prichalnaya – Sortuvalna – Zdolbunovska – ave. Grigorenko – Akhmatova – Trostyanetskaya – Kharkov highway – m "Borispol"..
Bus number 415 goes from st. Zhukov (from Forest Avenue.) – Sholem Aleichem – Bratislava – Krasnogvardeyskaya – Lebedev – ave. Gagarin – Kharkov highway – Virmenskaya – m "Borispol"..
Bus number 474k goes on a route: a. Bortnichi (from Borova) – Budyonny – Lenin – Light – m "Borispol"..
Metro
The nearest airport Boryspil metro station – "Borispol". Kiev Metro is open from 6.00 to 24.00
Help Desk Phones
(044) 281 71 22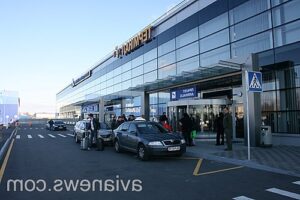 Airport Borispol
So, as you can see, each transport in Kiev – "the most-most." On the convenience to judge you, but, in any case, you can be absolutely sure that by removing an apartment in Kiev, without any problems, you get to it at any time.
And a little bonus, we hope this information will you really be useful, as a guest of the city, as well as indigenous people, who decided to take advantage of the service apartment for rent in Kiev, we offer to your attention a wonderful resource for navigation Kiev (and not only). http://www.eway.in.ua  This resource, having at hand a mobile phone or a computer, you are alone, without the distraction of questioning passersby can for 30seconds to get directions from point A to point B. This is a free information resource which will tell you, the better the ride (as a cheaper and faster), if you do not own cars, and will save you time and hassle