The settlements in what is now Obolon were still in the times of Kievan Rus. For the same land on a road Vyshgorod. In addition, the flat meadows often became a place of battles – both in times of strife, and at the attacks against Kiev. They settled here and later.
But modern history begins with Obolon organized array built in the late 1960's – early 1970's. It was a rather difficult technical problem – because the region is located in the flood plain of the Dnieper, which is, by the way, and its name says: the word "Obolon" – near the lowland river meadows. (By the way, there is a village of the same name – with Koropsky Obolon district of Chernihiv region, it is located in a flood plain..) So, for the construction of an array of much of the area for development had to change, alluvium sand – the area had to raise by 4-5 meters – in order to avoid flooding. Then this place began to appear the first high-rise buildings, schools, began to organize the city's infrastructure. Central Avenue array called Obolonskiy. A region was then called Minsk. The historical name – Obolon – was returned to the array (and the area) in 2001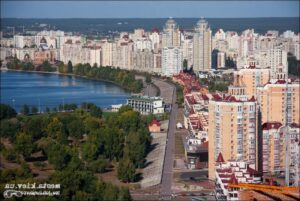 Obolonska Quay
Back in the late seventies to get an apartment in Obolon – meant to live somewhere "in the middle of nowhere." However, with the advent of the subway situation has changed radically. Easy access to the city center making it a very desirable place to stay (and now – daily rent apartments in Kiev). The first in this array "Obolon" metro station, then known as the "Prospectus Korniychuk," opened in 1980, "Minsk" and "Heroes of Dnepr" – in 1982
The northernmost bridge in Kiev – Moscow – was put into operation in 1976, linking the right bank with Voskresenka and then still under construction Troyeshchyna and Rainbow. The presence of a number of such urban arteries also contributed to the development of infrastructure Obolon.
However, the rapid development of Obolon, transforming it into a modern array of comfortable houses, where to rent a cheap apartment for rent in Kiev was almost the best, with lots of shops, cafes, restaurants, entertainment centers, – began with the 2000s. And now it's probably the most cozy, comfortable, nice and beautiful of the new districts of Kyiv. In addition, it is located on the bank of the Dnieper, with excellent opportunities for recreation and unique, completely pedestrian promenade Obolonska.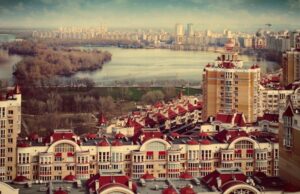 The new quarter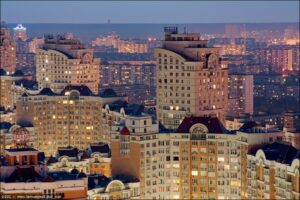 Obolon evening